What is the signing requirement to make a Financial Powers of Attorney legal?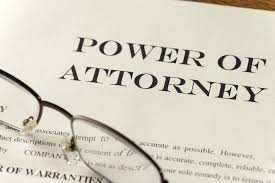 Generally, a financial power of attorney must be either witnessed or notarized to be valid (and in some states, both are required). Exact requirements can vary by state, so make sure you understandyour state's requirements.
If you live in a state that requires both notarization and witnessing, it could be difficult to finalize your Financial Power of Attorney. The following jurisdictions require Financial Powers of Attorney to be both notarized and witnessed: Arizona, Connecticut, Delaware, Florida, Georgia, Illinois, Iowa, Kentucky, Maryland, Nebraska, New York, Oklahoma, Pennsylvania, South Carolina, Vermont, and Washington, D.C.
However, if you live in a state that does not require Financial Powers of Attorney to be witnessed, you may be able to have your document "remotely notarized" online. There are currently 43 states that permit remote online notarization ("RON") — First Class Signing Service – A Professional Signing Service is one resource that you can use to get your document Notarized Online.
Notarizing Proof of Life Documents
A "Proof of Life" document or "Life Certificate" is a form used by foreign governments and institutions to qualify pensioners and other beneficiaries living abroad for financial benefits. These forms often include instructions that the document must be presented to a Notary, and sometimes ask the Notary to certify that the person named in the document is currently living.
Can a Notary Notarize a Proof of Life Document?
Not always. Some proof of life documents simply require the individual named in the document to have their signature notarized with a standard act such as a jurat. If this is the case, a Notary may notarize the signature on the document.
However, if the document asks the Notary to certify that the signer is currently alive, chances are the state law doesn't permit Notaries to do that. Washington state is an exception, because Washington Notaries are permitted to certify that an event has occurred, or an act has been performed — the "event" in this case being that the pensioner is alive on a certain day. Notaries in Louisiana and Puerto Rico, who have broader authority and legal powers than Notaries in other jurisdictions, also may certify a signer's status on a life certificate.
Alabama and Florida civil law Notaries, who are also attorneys, are authorized to certify a signer's living status on proof of life documents, but Notaries with regular Notary commissions in these states may not do so.
Other proof of life forms may ask for a "signature witnessing" where the Notary certifies the document was signed by an identified individual in the Notary's presence. The following jurisdictions authorize Notaries to perform signature witnessing: Colorado, Delaware, District of Columbia, Georgia, Hawaii, Idaho, Illinois, Indiana, Iowa, Kansas, Kentucky, Maryland, Massachusetts, Michigan, Minnesota, Mississippi, Missouri, Montana, New Hampshire, New Mexico, North Dakota, Oklahoma, Oregon, Pennsylvania, Rhode Island, South Carolina, Utah, Vermont, Washington, West Virginia, Wisconsin, and Wyoming.
Alternatives For Proof of Life Documents
If a Notary is unable to perform a notarization for a proof of life document, the signer may be able to have the document notarized at an embassy or consulate of the issuing nation instead. Consular officers are normally authorized to notarize documents related to their home nation.
Learn more about First Class Signing Services and see how you can Notarize your documents today. info@firstclasssigning.com